The Village Story
Our multicultural community is the result of faithful people who over decades,
were compelled by the life of Jesus to see a kingdom of love realized on earth.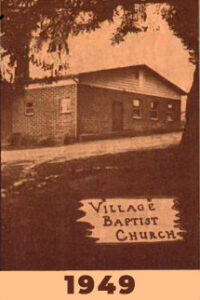 In 1949, Forest Grove Baptist Church planted a church in a suburb of Portland called Marlene Village. The new faith community, which met in the building that today is our front office, desired to serve the neighborhood surrounding the church campus. Village Baptist Church was born.
Led by Pastor Frank Dobra, we grew to 200 participants and a new worship space was then built. This building, currently known as our Chapel, was completed in 1967. Under Pastor Bob Luther's leadership, it was dedicated " …for the extension of Thy kingdom, through missionary endeavor and worldwide evangelism, for the upbuilding of the immediate community and for the spreading of good will to all men and all races."
This desire to serve all people and all races, both at home and around the world, continued under Pastor Don Jensen who arrived in 1969. In the 1970s and 1980s, Washington County continued to grow and diversify. Our faith community, increasingly referred to as simply "Village," also grew. Pastor Jensen continued to teach about our calling to be a multicultural community in Christ. Cross-cultural missions was often emphasized in his preaching.
In 1991, Pastor Jensen shared lunch with a Korean family who had visited Village. Soon they joined Village along with more and more Korean families, forming what is now our Korean Fellowship. Over the next two decades, Village's leaders embraced a Hispanic Fellowship, a community of native Spanish speakers from all over South & Central America, as well as Chinese, East Indian, and second generation Asian American community members who formed ethnic fellowships.
Under Pastor Paul Edwards (1998-2000) and Dr. John Johnson (2000-2016), we continued to learn how the Gospel of Christ is good news to all people. Always focused on the Scriptures, we saw that the community of God in heaven is comprised of people from every nation and that God calls us to be that community of heaven here on earth now. In 2009, we built our Worship Center to increase collaboration of our diverse community and serve our Washington County neighbors, organizations, and like-minded churches in the Northwest region.
Following Pastor Ken Wytsma's time as Lead Pastor (2018-2020), we are compelled more than ever to be culturally unique, ethnically colorful, and beautifully united in Jesus. We welcomed our 8th Lead Pastor, Pastor Paul Kyu-Jin Choi in February 2021. Pastor Paul was an internal candidate who served in many roles at Village, beginning with Pastor of Korean Fellowship and Pastor of Ethnic Ministries. He was born in South Korea, grew up in New Zealand, and was educated in Canada, the United Kingdom, and the USA.
To honor and celebrate our differences at the COVID-19 season in our history, our online Sunday services in English, Korean, Spanish, and Mandarin included different styles of worship but all invited us to recognize our common need for salvation and God's embrace across 35 nationalities and even more cultures.
In September 2021, we were honored to merge with Simple Truth International Church and welcome their community as our Japanese Fellowship. Simple Truth International Church was started in 2014 with three families as a house church. They set their focus and mission to those who have Japanese cultural and language heritage such as international students or married couples. In 2020, Simple Truth began renting space from Village, built a great relationship with our pastors and directors, and they grew a desire to join Village. For several months, they prayed and sought the Lord's guidance about this transition and integration with leaders of Village before joining our congregation in 2021.
Our church logo, reimagined in 2018, conveys light, growth and community. Centered around a stylized "V" representing our name, the logo encourages us to personalize its meaning. We have heard of community members using it to the four parts of our mission. Or, as one person at the beginning of their spiritual journey said, "Perhaps the "V" is God welcoming us with open arms; the Father, Son and Spirit are represented by three graphical elements and the fourth, at the top, is us."
Through our unity in diversity, because of the shared purpose of the cross, we learn from one another as we journey with the Father, Son, and Spirit.