Distribution Center
Thank you for all of your hard work, prayers, donations over the past year! We have to worked with multiple organizations helping individual families who are struggling.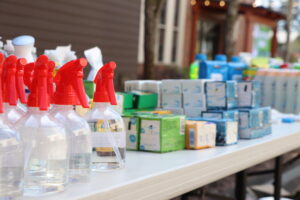 The Distribution Center was created to be a temporary fix to a disastrous pandemic. Now that organizations have stabilized and received more funding for basic supplies and food, it is a good time for our distribution center to move forward. We want to keep reaching the community in ways that others are not able to, to continue building on each other's efforts in loving our community. There's no doubt that God used this center to build more opportunities for other ministries at Village! The partnerships we've created through this center remain valuable to us, and if there are large needs we'll run Sunday drives to help our partners. The Distribution Center won't disappear, only the items and drop off location in the Gym. We'll continue to have projects that we'll need everyone's help with, both in volunteering and prayers!
We look forward to new ways to serve our community together in the future!